What You Need to Know About Bathroom Remodeling
Jacksonville FL Bathroom Remodeling is the process of modifying and remodeling the layout, style, and functionality of a bathroom. Renovations usually include all major and minor improvements that help revitalize or expand the functionality of bathrooms.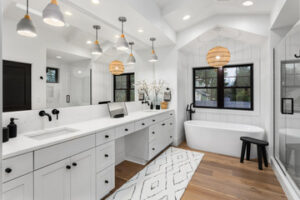 Many people are confused about the difference between a bathroom remodel and a renovation project. This article clarifies the differences and their associated costs.
The cost of a bathroom remodel depends on the size and complexity of your project. Larger rooms, with more space to work with, will typically be more expensive than smaller ones.
Besides the cost of materials, there are other factors to consider, like the time it will take to complete the work. It's usually best to work in stages, especially if you want to include other projects like installing a custom backsplash or a new countertop as part of your bathroom remodeling plans.
For example, a simple flooring job that involves peel-and-stick tiles or mesh mosaic tile may only take a few hours to install. But a more intricate floor project like a marble or slate floor will require professional installation, which can take several days.
It's a good idea to have a budget for the entire job before you start. This will ensure that you can make all the right decisions.
Another way to save money on a bathroom remodeling project is to choose inexpensive but durable materials for your countertops. Granite, marble, and soapstone are on the luxury end of the spectrum, but they'll also last a long time when maintained properly.
You can also add new fixtures to the bathroom, such as a tub, shower enclosure, or sink. Fixtures can be purchased at home stores or specialty stores and should be carefully measured to make sure they'll fit your bathroom.
Replacing the toilet, sink, or tub/shower enclosure can make a huge difference in the appearance of your bathroom. You can do it yourself or hire a plumber. However, if you're unsure about the plumbing system in your bathroom or don't have any knowledge or experience with it, you should leave it to a plumber.
The design of a bathroom is an important part of the remodeling process. It involves the selection of fixtures, flooring, and lighting, as well as the look and feel of the room. The design also includes the layout of the space.
Depending on the scope of your remodel, you may be able to work with an interior designer or architect. This can help you visualize what the finished project will look like and ensure it fits your style and budget.
You should always have a design in place before you start the remodeling process. This will help you avoid any mistakes that could cost you more money in the long run.
Keep your bathroom remodel design simple and low-key. This will keep costs down and help you achieve the bathroom of your dreams without breaking the bank.
Another tip for keeping costs down is to plan your renovation before leaks and other problems have time to develop. A bathroom that is leaking or damaged can be difficult to fix and can lead to damage to the ceiling below.
Before starting your bathroom remodel, make sure you have all of the necessary permits and licenses in place. These are required by law and will save you money in the long run.
Finally, make sure you choose a reputable contractor. This person will be spending a lot of time in your home throughout the entire remodel process, so it is important to hire someone you can trust.
While bathroom remodels are expensive, they can make your home more beautiful and functional. With proper planning, you can have a bathroom that will meet all of your needs and exceed your expectations.
The layout of your bathroom is one of the most important factors to consider when planning a remodel. Whether you have a small bathroom or a master bath, the right layout can make it feel bigger and more functional.
Layouts can create space, maximize utility, shape an environment, and emphasize a design style. They can also create privacy, define zones, and create focal points in a space.
If you are going to build or remodel a bathroom, it is best to use a professional interior designer for guidance and advice on the layout. A knowledgeable expert can help you plan out your space, avoid common pitfalls, and ensure that your bathroom will be a comfortable and functional space for years to come.