Custom Bathroom Design
Bathrooms come in all shapes and sizes and can have various custom features. Many elements contribute to a custom bathroom design, and some can be quite simple. Others require a little more thought and planning.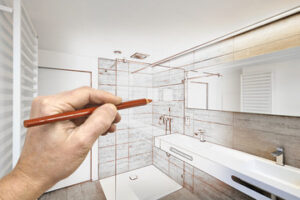 Storage is one of the most important aspects of a well-organized home. It helps keep clutter to a minimum and makes it easier to access the things you need in your everyday life and for special occasions. For a bathroom that needs extra storage, look for built-in cabinets and shelving that can be customized with your unique style. They can be anything from a vanity cabinet to a small, space-saving towel cabinet.
Rather than letting a drawer become a dumping ground for past-their-prime beauty products and almost-empty bottles of cleaner, use dividers to separate them. This is an especially good solution for smaller bathrooms where you may not have the room to install an entire custom cabinet system. Try to repurpose existing furniture for this purpose, too.
Adding texture to your bathroom design is an excellent way to create interest and depth. There are a wide range of options, from wood and stone to textured tiles and more. Texture can add a sense of warmth and authenticity to your space without compromising style or comfort. Some examples include reclaimed barn wood from a special region or locally sourced stone.
A contrasting color is an excellent way to balance texture in your bathroom design. For example, a white vanity with a natural wood countertop can be too harsh against the floor tile if it is not balanced correctly with another texture. A textured wall treatment can add luxury and wow to any monochromatic bathroom design. Whether a stylish 3D wall tile or an embossed mirror frame, there are plenty of ways to incorporate a textured surface into your bathroom.
Lighting is one of the most important elements of any bathroom. It should be functional, without glare, and soothing and relaxing. You can choose from a range of ceiling and wall lights for a variety of purposes and spaces. Some hang lower and reflect the natural light in the room, while others are recessed into the ceiling to cast a soft glow over a sink area.
Some lighting designs are meant to create a more dramatic, luxurious atmosphere. These designs can be achieved through the use of bold mini-chandeliers and pendants that cast a dramatic shadow. These can also be used in small bathrooms to add a sense of drama and glamour. In some cases, a chandelier may be too much for a bathroom to handle, so opt for a pair of subtle sconces instead to add balance and contrast.
Another option is LED Inlay Lighting, which can be installed in the vanity mirror itself to create a more relaxing ambiance when you're getting ready. The light bulbs are adjustable so you can change the brightness based on your needs.
A tub/shower combination is a great way to save space and add luxury to a bathroom. In addition, these fixtures can be equipped with features like multiple shower heads and a variety of safety accessories, such as grab bars and non-slip tile. The right combination of these features can enhance the value of your home and increase its resale potential. The options for a tub/shower are plentiful, including freestanding and alcove designs that can be placed anywhere in the bathroom.
Rather than installing a door, consider a glass wall that divides the two zones and allows light to enter the room. Another way to increase the appeal of a tub/shower is to replace the existing tile with something more colorful and fun. Here, this homeowner opted for a tile pattern reminiscent of penny rounds, giving the space a playful touch. Adding a river rock floor in a tub/shower is also a popular design choice that can bring some of the outdoor feel into your bathroom.