Tips For Bathroom Remodeling
Whether you are just looking for a simple update to your bathroom or you want to do a full remodel, there are some tips that can help you get the job done.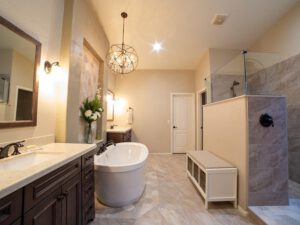 Whether you have just bought a home or you want to upgrade your current bathroom, you might be wondering how much a full bathroom remodel costs. The cost of a full bathroom remodel depends on several factors, including size and layout. The materials used in the remodeling process also affect the cost.
A full bathroom remodel includes replacing almost everything in the bathroom. It's a good idea to get estimates from bathroom remodeling professionals before deciding on a project. They can offer budgeting advice and free estimates.
You can also save money on your remodeling project by using prefab units instead of custom pieces. For example, you can save money by reusing a toilet or sink. You can also buy off-the-shelf fixtures to add to your bathroom. Using lower-quality materials can increase the cost of your remodel in the long run.
Another way to save money on your bathroom remodeling project is to change the layout. For instance, you can add a shower stall instead of a bathtub. The cost of converting a tub to a shower can be simple if you already have plumbing in place. However, it can be more complicated if you have to move the plumbing and gut the wall to make room for the shower. You can also save money by ripping out old tiles.
Some high-end bathroom remodeling projects include luxury tile, performance shower systems, and custom cabinetry. The total cost of a high-end bathroom remodel can be as high as $100,000.
The bathroom remodels cost depends on the type of materials used and the number of fixtures you install. The quality of the materials will also affect the cost. Materials are usually priced according to the size of the room. Larger rooms will cost more than small ones.
The costs of bathroom remodeling will also vary according to the location of your home. If your remodeling project is in a remote location, you may have to pay more. You may also have to pay for a permit. A permit costs $150 to $1,000 depending on the scope of your project. You'll also have to pay for a professional designer. The cost of hiring a professional designer can range from 5% to 10% of the project's total cost.
A high-end bathroom remodels usually costs more than $10,000, but it can add a lot of value to your home. These projects usually involve custom cabinetry, a steam shower, and faux finishes. You can also add automated bathroom fixtures. These fixtures may include an automated shower, a mirror, and lighting. These fixtures are often installed in specific areas of the bathroom. The cost of automated bathroom fixtures can range from $2,500 to $7,000.
If you plan to do the remodel yourself, you can save money by purchasing parts instead of using a contractor. It may also be a good idea to pay for a consultation before completing the job. This will allow you to plan the project and make sure you're on track with your budget.
During the process of a bathroom remodel, lighting can play a critical role. You want lighting that is the right color, size, and position for your particular application. You should also consider the type of bulbs and switches that are most appropriate for your application. This will help you save money and ensure you have a bright and cheery bathroom to show off to your friends and family.
Having a well-lit bathroom can make a world of difference. For example, the best lighting for personal grooming requires the right lights in the right positions. If you aren't looking to spend a fortune on a full-scale remodel, consider installing stick-on LED strip lighting along the crown molding. You may also consider installing translucent glass to provide privacy.
The best part about a bathroom remodel is that you can control the cost. You may be able to do the work yourself and save thousands of dollars in the process. You can also take advantage of manufacturer discounts. If you do opt to hire a contractor, make sure you shop around for the best deals.