Design Ideas For Kitchen Remodeling
Whether you want to renovate your kitchen or just looking for ideas to improve your home's appearance, there are plenty of ways to remodel it. There are several design elements to consider when choosing the right materials for your new kitchen. These include flooring, cabinetry, countertops, lighting, and appliances.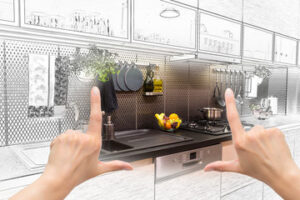 Choosing the right flooring for your kitchen can make a huge difference. You'll want to choose a durable, beautiful, and functional material. There are several common materials, including vinyl, hardwood, ceramic, and stone. Check out https://www.americankitchenremodelingkc.com/ to learn more ideas for kitchen remodeling.
Tile is a popular choice because it can be laid in various patterns and is available in various colors and sizes. It's also relatively inexpensive. However, tile can be quite slippery when wet, so it's best to use a cushioned mat while cooking or cleaning. Aside from being durable, waterproof laminate is also a good option. It features a rigid core made of waterproof material that can be glued or clicked together to form the floor.
Adding or replacing cabinetry is one of the most important parts of a kitchen remodel. It can be a difficult and expensive process. Custom cabinets are designed to fit your space. They offer a variety of styles and finishes. They can cost $200 to $300 per linear square foot. You can order them online or contact a design firm. Semi-custom cabinets are also factory-made in standard sizes. They offer decorative features like drawer inserts. They can be about fifty percent more than the standard cabinets. They are also available in a variety of woods. They can also have pantry units and sliding shelves.
Choosing the right countertops for your kitchen can be a difficult task. There are many different materials, each with their own pros and cons. If you are still deciding what to choose, consult a countertop expert. One of the most popular types of counters is granite. This material is natural and durable, and it is available in a variety of colors. It is also easy to clean. Another common type of counter is tile. It is durable and easy to care for but can be chipped and cracked. It is also easily stained and has grout lines that tend to yellow with age.
Buying new appliances is a major undertaking. They require some thought to make the right choices. It's not just about the right appliances for your needs, but also the best choice for your budget. There's a wide array of products available, from high-end to low-end. Choosing the right appliance can make or break a kitchen remodel. The best way to find out what's out there is to go on a shopping expedition. You'll want to check out local stores to compare prices. Some of the cheapest models may be more expensive than their luxury counterparts. Some of the more upscale models can cost as much as a few hundred dollars more, but you'll be rewarded with a better kitchen in the long run.
Having the right lighting is important for any kitchen remodeling project. It can make or break a new kitchen. For example, a poorly designed light can create shadows on work surfaces and a lack of lighting can be very disorienting. Lighting for kitchens can include accent, ambient, task and decorative lighting. These types of lights should all be used to complement the overall atmosphere of the space. Accent lighting draws attention to specific features and design elements. For example, it can highlight a kitchen island and is usually dimmable. Mood lighting adds warmth and interest to a space. It can be created using recessed fixtures or track lighting. The ideal location is between cabinets and the ceiling.
Having a kitchen that functions properly is crucial to being able to cook and entertain. Remodeling your kitchen can make your home more modern and increase its value. It is also a good place to hang out with your family and friends. There are many design ideas for kitchens to help you create the space you've always dreamed of. The best design ideas for kitchens are usually the ones that blend functionality with personal preference. A large kitchen island is a great example. It can be used to store pots and pans, serve as a counter top, and provide extra storage.